Various probes and controls for bucket elevators: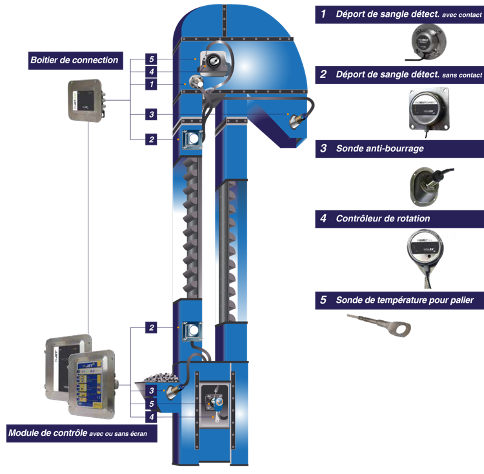 Lift strap offset controller
Different solutions to determine the speed and to identify possible belt or band offsets
Designed for harsh environments
Dustproof and transported products
Can be connected to a PLC.
Rotation controller
We offer different devices to protect rotating mechanisms from underspeed conditions
ATEX version available
Insensitive to vibration, chemical corrosion, weathering
Temperature sensor
Overheating of bearings is one of the main risk factors for explosions in bucket elevators.
We offer a wide range of temperature sensors.
ATEX certification
Reliable and easy to install elements
Possibility of connection to a control module
Anti-blowback sensor
Jam detection solution, level indicator.
ATEX version or not
Possibility of connection to a PLC
NETCO makes the difference
Our main assets that ensure you a high quality service
Reason n°1
Access to all ranges with efficient logistics and technical independence
Reason n°2
Our highly qualified and trained specialists are available 24/7!
Reason n°3
Over 120 years of experience and expertise that we share with our clients